UniSA Campus in the GP Building Mawson Lakes SA 5095
Click on the above Link to see where we are located;
Follow the A Frame signs located on Mawson Lakes Boulevard
Service Time: 10.00 am to 11.30am
Service Focus: Corporate worship, Teaching/Preaching, Prayer & Communion*.
*(Third Sunday of the Month)
To find out more about our Sunday Morning Service (Click Here)
We hope to see you at our Next Service
___________________________________________________________________
On Sunday evenings we gather at;
Click on the Link to see where we are located; Cafe Cibo – Upstairs 57-59 O'Çonnell Street Shop 3 North Adelaide 5006
PLEASE NOTE: Public Holiday Sundays we do not host our Sunday Night Study or Outreach.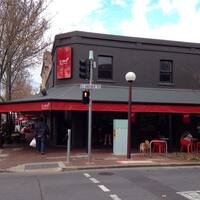 Upstairs at the Venue and Starts at; 5.00pm – 6.30pm
Service Focus:
Bible study/Bible Teaching, Q & A & Fellowship.
Who should attend? Anyone who wants to learn more about the Bible and wants Christian Fellowship Sunday Nights in the City of Adelaide. The night is informally run with the opportunity to sit and listen, discuss and ask questions. Each night has a study theme "Currently the book of 1 John" and everyone attending gets a worksheet so that they can take notes and answer relevant questions if they choose to do so. It is an engaging opportunity for both new and mature Christians to come along and be a part of, and yes the Church also is happy to get you a coffee too!
We hope to see you soon.
________________________________________________________
Still have questions?
If you want to clarify anything else feel free to click on the logo below to ask. We would love to hear from you.
Significance Church is a Reformed Church in Adelaide, An Evangelical Church in Adelaide, A Bible Preaching Church in Adelaide, A Gospel Preaching Church in Adelaide, An expositional preaching Church in Adelaide, An Acts 29 Church in Adelaide, A Gospel Coalition Church in Adelaide the City of Churches.